SPONSORED CONTENT
The creator of the Middle East's first 4G network is set for major growth
Newroz Telecom has developed state-of-the-art telecoms infrastructure and services that are opening up opportunities for the Kurdistan Region of Iraq, investors and partners
Kawa A. Junad, Group Chairman, of Newroz Telecom explains how a company that is internationally recognised as one of the best telecommunication operators in the Middle East is connecting the Kurdistan region to the world with cutting-edge technology and international partners.
PR: How has Newroz Telecom developed the telecommunications sector in Kurdistan?
KAJ: We started in 2004, when Iraq was still dependent on satellites for internet connection. Our first move was to develop fiber optic and we deployed networks across Kurdistan with the support of the Turkish private sector. In this way, Newroz Telecom was able to connect Kurdistan to the entire world — the revolution in our telecommunications sector had taken place. We copied the world's most technologically advanced countries and, within five years, had built a telecom infrastructure comparable to that of France, the UK and the US. We bet on 4G at its emergence and I believe we created the Middle East's first advanced 4G network. Recently, we received two prestigious awards in Paris and London: for the world's best network and for our Fastlink 4G network. Now we are thinking about tomorrow and launching 5G ahead of neighboring countries.
A few months ago, with the government in Baghdad, we finalized Symphony. It is a massive network project reaching most Iraqi cities and is set to have a major impact on the whole of Iraq. This new network offers an alternative to existing submarine networks that cross the Suez Canal and the Atlantic. Because of Iraq's geographical location, it provides better latency than existing solutions and we can connect the whole country to our neighbors and key world hubs, like Paris, London and Frankfurt. We benefit from working with Türk Telekom, which has extensive reach throughout Europe, and we are now looking to convince other global carriers to choose us by offering them a trial to show how well our system works. We want to position ourselves as a partner for them and internet giants like Facebook and Amazon. They cannot handle all of their traffic on their own and need to spread their hubs — we can develop our own hub here, with a big data center.
PR Newroz Telecom has world-class partners, like US-based Cisco and IBM. Why is this?
KAJ: The US is way ahead of the rest of the world in innovation. I want to know where the telecoms sector is heading and learn from US experience and partners. I am not just interested in adopting US trends in telecommunications, but also in the whole information technology sector: applications, corporate social responsibility processes and other added-value services.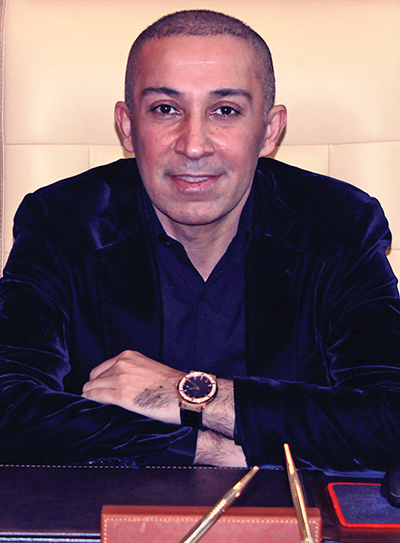 PR: What are your goals and how will you achieve them?
KAJ: The internet is as important as water and electricity, and the future not only depends on infrastructure but also on the wires of fiber-optic networks. By 2022, I envision that every household should and will have access to the internet and the latest technological advancements. Newroz Telecom plans to connect every single household in the region to its network and reach a 100% penetration rate in the next two to three years. When I say that we want to reach 100%, I'm referring to our fiber-optic coverage, not our wireless network, which is already at 100%.
We are considering an initial public offering to grow our business substantially. With technology, everything is changing so fast. In the past, providing internet was mainly about providing services to the customers. Today, it is not only about providing internet services, it is about adding value. Compared to just three years ago, the market is much more mature. Once you reach a household, there are so many services you can develop and offer to that family. We need to invest and promote complementary services that would use our network. Technologies developed around the world are going in that direction — we want to understand what the new products are that we can offer to the community. For example, the Ministry of Interior is highly dependent on our network for its surveillance system and we are developing an e-government system to modernize payment services. Newroz Telecom is a solution provider — it makes people's lives easier.
PR How would you describe Kurdistan to potential partners?
KAJ: Once people have visited the region, done business with us, seen the relationships that we can build here and how safe it is, they lose their preconceptions almost immediately. Kurdistan can become the Hong Kong of Iraq and has the potential to become the economic epicenter for the whole country.