---
These Leaders Are Defining What It Means To Be a Global Citizen
The Atlantic Council is honoring Ukraine's Volodymyr Zelenskyy, Germany's Olaf Scholz, Japan's Fumio Kishida, the United States' Janet Yellen and more.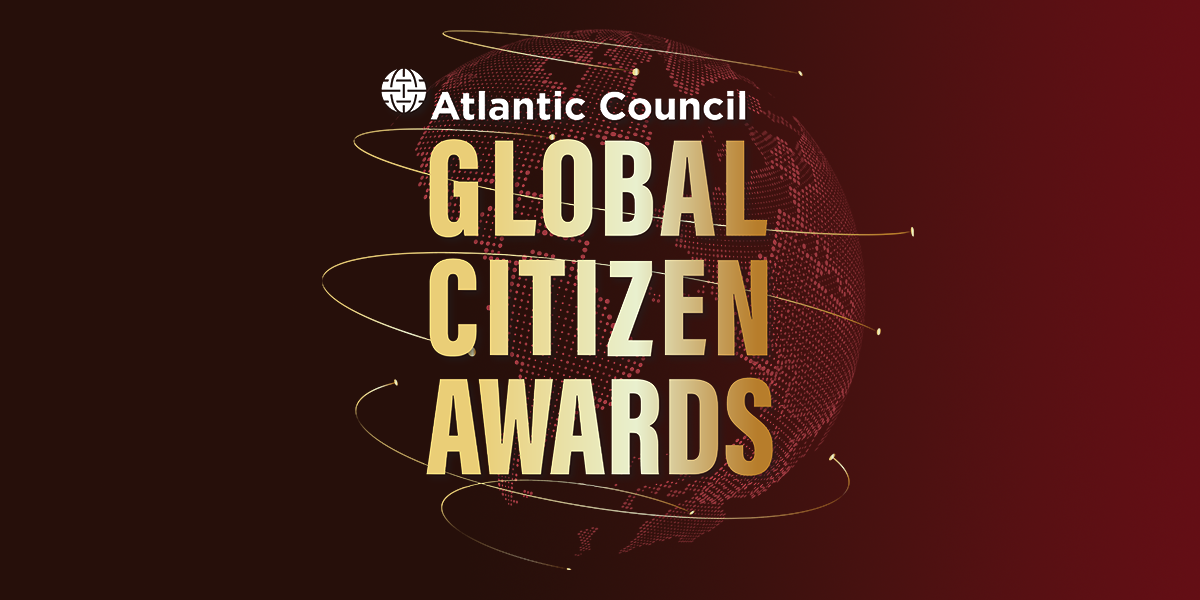 Vladimir Putin's war continues to rage in Ukraine. China is ratcheting up its efforts to construct an alternative world order. The climate crisis is increasingly unavoidable. The easy choice right now would be to turn inward and shrink from these challenges. A number of world leaders are doing just that.
But there are other leaders who are bucking the trend and turning outward. They are reaching across party lines, borders, and oceans to build a more peaceful and prosperous world. This year the Atlantic Council's Global Citizen Awards will honor one of the most impressive groups we've ever assembled, including Ukrainian President Volodymyr Zelenskyy, German Chancellor Olaf Scholz, Japanese Prime Minister Fumio Kishida, and US Treasury Secretary Janet Yellen. The broadcast premieres on Thursday, September 28, at 9:00am ET on AtlanticCouncil.org and ACTV, our new streaming service available via your smart TV and mobile phone app store.
The Atlantic Council was founded in 1961 to help bind together the transatlantic alliance at a time when the concrete had barely dried on the Berlin Wall, and US-Soviet tensions were near their peak. Our think tank has evolved with the times into a global publishing and convening powerhouse, advancing the goal of shaping the global future together with friends and allies. Our work now extends well beyond its original North Atlantic moorings, across Latin America, Africa, the Middle East, and the Indo-Pacific.
Much of what we do involves groundbreaking research, insight, and analysis to set the policy agenda in Washington and other capitals. We also bring together policymakers in public and private to hash out solutions to the world's biggest challenges. And on nights like the Global Citizen Awards, we put a spotlight on the leaders who are charting the most promising paths forward, hoping to inspire others to do the same.
For the past year and a half, we have all been riveted by President Zelenskyy, who has rallied the world to his people's cause. His determination to remain in Kyiv during the opening days of Russia's full-scale invasion was courageous and visionary, as has been his tireless advocacy for more military and humanitarian assistance for Ukrainians. He has helped convince people around the world that Ukraine's fight is their fight—a battle for freedom, democracy, national sovereignty, and the global order. As Zelenskyy told me in Kyiv in June—when an Atlantic Council delegation presented his Global Citizen Award in person—"We need the world not to be afraid of Russia."
And global views have started to change, nowhere more so than in Germany, where Chancellor Scholz delivered his now-famous Zeitenwende speech in the days after Putin's February 2022 invasion. The address marked the arrival of a historic turning point for Germany, and Scholz and his nation have followed through by turning away from Russian energy, committing to strengthening the military, and standing with Ukraine.
Japan offers another example of politically bold outreach. We will honor Prime Minister Kishida fresh off a landmark Camp David summit focused on building a stronger alliance with the United States and South Korea—and overcoming the painful history between the two East Asian neighbors. The threats these countries and others face from North Korea and China require creativity, resolve, and common cause.
Secretary Yellen, meanwhile, has helped redefine economic statecraft since Russia's full-scale invasion of Ukraine while also balancing the high-stakes relationship between the United States and China. Her push for "friendshoring"—first rolled out at the Atlantic Council in 2022—has helped reshape the playing field for competition between the world's two largest economies.
There are those who say that Russia's aggression and China's challenge must be dealt with separately, but these two issues are inseparable. They threaten the global order that has delivered unprecedented peace and prosperity since the end of World War II. These are the values that the Atlantic Council has fought for since its founding and continues to advocate each day. At the Global Citizen Awards, we will celebrate honorees who are raising the bar for leadership—and global citizenship.
Their example must win out over the alternative, for all our sakes.