SPONSORED CONTENT
The Globally Connected Islands
State-of-the-art telecommunications and transport infrastructure have already attracted numerous technology businesses and digital entrepreneurs to the Cayman Islands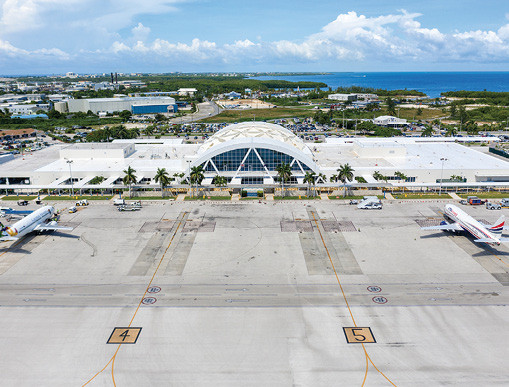 The life of a global digital nomad relies on being able to connect with your clients, employers, staff, suppliers or advisors — wherever they are on the planet — as easily and efficiently as if you were in the same building. The Cayman Islands scores highly in this area, with state-of-the-art telecommunications infrastructure and services that compare favorably with those in the world's biggest economies.
According to U.K.-based telecoms firm Cable's 2020 global broadband analysis, internet users enjoy an average download speed of 57.96 Mbps. That's the 27th-fastest worldwide and puts it above places like Japan, Britain and Germany. About 90% of homes are currently connected to the internet, with bandwidths going as high as 500 Mbps in some areas, far above the Caribbean average.
All four of the country's internet service providers offer fixed and wireless connection to a high-speed fiber-optic network that covers much of Grand Cayman and is growing daily. Unlimited bandwidth is the norm, while residential and business packages can come with telephone services plus dozens of television channels, many based on U.S. programming.
A fiber installation may take less than a week but, if you've decided to move to one of the remoter parts of the country and are outside that network, there are wireless internet services covering all three islands. Speeds are slower, but no line installation or time-consuming setup is needed to use these, just a simple plug-and-play modem.
If, on the other hand, you want to work on the go, or plan to operate your remote office from a deck chair on the beach, the two mobile service providers can connect you to 4G cellular networks with universal coverage across the islands.
The resilience of its telecoms infrastructure was made clear in Spring 2020, when most of the population was locked down. Even though internet usage changed dramatically, people were able to work, learn, socialize and stream entertainment online, as well as access funds and public services digitally. The systems held up so well that a recent Chamber of Commerce survey suggests about 50% of Caymanian firms are considering incorporating remote working into their businesses permanently.
A hub for digital businesses
Two undersea fiber-optic cables connect the Cayman Islands to the rest of the world. Both are robust, employ best-in-class technology, operate well below capacity and when one needs repair or upgrade, traffic can be rerouted to the other. However, the government is considering an open tender on the best approach for laying an extra cable link to the U.S.
"This submarine cable will be the foundation to make the Cayman Islands a data and information-center hub, and will place us at the cutting-edge of modern business communications," Minister of Commerce, Planning and Infrastructure Joey Hew told the Chamber of Commerce's 2020 Economic Forum. The government's forward-focused digital-friendly attitude has helped persuade hundreds of innovative international businesses and entrepreneurs in sectors that include information technology, biotech, blockchain, fintech, media and marketing to move to the islands.
Many are based in Cayman Tech City, one of Cayman Enterprise City's three special economic zones. This development project was ranked as 2020's fifth-best global free zone and the best in the Americas by the Financial Times' fDi Intelligence based on its attractiveness, facilities and investor incentives. fDi honored it with another award for the events it organizes, which have helped build a well-networked ecosystem of digital expertise and talent.
Excellent air connectivity
Once approved on the two-year Global Citizen Concierge Program, digital nomads can go in and out of the country as long as they spend at least 90 days a year there. Known as the Gateway to the Americas, the Cayman Islands are very well connected by air and, although tourists can't enter at the moment, residents can travel on regular flights to the U.S., the U.K., Jamaica and Honduras.
When it is safe to return to normal schedules, lines like American Airlines, Delta, British Airways and local carrier Cayman Airways will resume daily 50-minute flights to Miami, plus direct routes to around a dozen more U.S. cities and other international destinations. Each island has its own airport: Owen Roberts International Airport (ORIA) on Grand Cayman, Charles Kirkconnell International Airport on Cayman Brac and Little Cayman Airport.
Most international flights land at ORIA, where a modernization project costing over $100 million has turned it into one of the region's most advanced facilities. In 2019, a new terminal opened, increasing capacity from 500,000 passengers a year to 2.7 million. The airfield's upgrade is also nearing completion, which has extended and strengthened the runway for larger planes.
ORIA was awarded Caribbean Airport of the Year at the Caribbean Travel Awards 2020, with the judges commenting: "The brand-new terminal is a major addition for the destination, with a clean, sleek interior, a stunning turtle-shell exterior and a terrifically run airport operation." According to Deputy Premier and Minister of Tourism Moses Kirkconnell: "Our pledge to provide the Cayman Islands with a world-class airport has been fulfilled. It conveys to all travelers that you are very, very important to us."