SPONSORED CONTENT
A New Beginning
Prime Minister Kyriakos Mitsotakis has taken the bull by the horns and embraced reforms that are driving Greece toward a confident and optimistic future.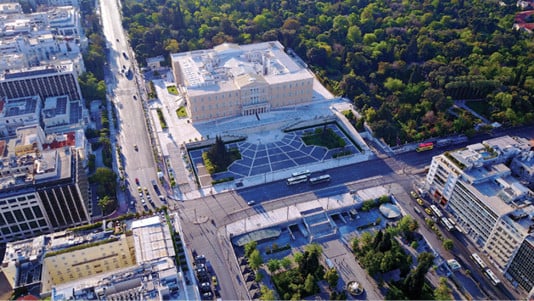 Since July 2019, when Greece elected a new business-focused government, the country has begun an economic transformation process that has already taken it from being the "black sheep of Europe," as Prime Minister Kyriakos Mitsotakis puts it, to having the world's best-performing stock market. "We have ushered in a new period of growth and effective structural reforms," Mitsotakis informed International Monetary Fund (IMF) Managing Director Kristalina Georgieva in Washington earlier this year. At that meeting, Georgieva confirmed that the IMF is closing its Athens office after tight supervision of the previous, left-wing government's economic management.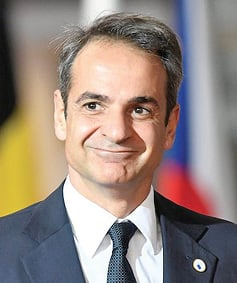 This demonstrates the growing international confidence in the administration of Mitsotakis, a man who earned master's degrees from both Stanford University and Harvard Business School, and worked for companies like Chase Investment Bank and McKinsey & Company, before entering politics.
With his New Democracy party winning a clear majority, Mitsotakis's government wasted no time in starting to implement his ambitious strategy that is delivering radical change: reforms that will bring growth and jobs, private-sector investments, tax and spending cuts, and a robust banking system free of non-performing loans.So far, corporation tax has dropped from 28% to 24%, dividend tax from 10% to 5% and property tax has been reduced by 22%. The government has also lifted all capital controls, introduced a wide-ranging investment law to decrease red tape and established a National Transparency Authority to help prevent corruption.
In addition, the administration has kick-started the country's privatization program and unblocked large investment projects including Europe's biggest urban redevelopment scheme, the €8-billion Hellinikon project in Athens. While speaking at an event in January that was organized by influential Washington-based think-tank the Atlantic Council, Mitsotakis declared: "For 2020, we will continue with this aggressive reform agenda," adding that Greece was now "open for business."
A strong pro-business agenda
Adonis Georgiadis, Minister of Development and Investments, introduces his government's plans to solve problems for investors rather than create them.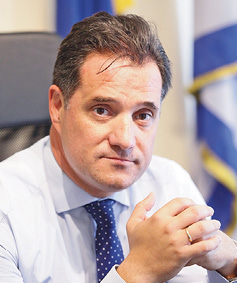 Q: You have said you want Greece to be "a totally new country for business." What does this mean?
AG: We have a unique opportunity. Prime Minister Mitsotakis has led our party to win all recent elections: from the municipal to the European. Because of that, for the next four years we have the most stable political system in the European Union (EU). Mitsotakis was elected because he made very clear that he wanted a mandate to speed up the privatization program, cut red tape, lower taxes and decrease the size of the state in order to make available the funds to cut taxes.
We now have a clear mandate to transform our country into the EU's most business-friendly economy. Stakeholders doing business in Greece already feel the difference from the reforms we have made so far. We want Greece to be a country where businessmen interested in investing are able to do so, with the assurance of a trouble-free business environment.
A country where it is easy to set up a company and, at the same time, easy to close down if deemed necessary. A country where bureaucrats are there not to create problems but to help solve them. In short, our vision is to make life easy for investors.
Q: Could you highlight some of the interesting opportunities in Greece's privatization program?
AG: We have big tenders for ports that could be interesting for U.S. investors. Logistics, tourism and the privatization of state assets including shipyards are other opportunities. We have tenders underway in energy and more will be launched soon, particularly in oil and gas exploration and renewable energy.
Q: When it comes to attracting foreign direct investment, what can Greece offer that its competitors can't?
AG: Firstly, Greece is now a very stable country. Because our economy was depressed for almost a decade, Investors will find attractive prices for property and other assets and great potential for substantial profit.
We also have a highly educated workforce, Greece is in the eurozone and, with the help of our new legislation and incentives, it is becoming very business friendly. We are not going to reinvent the wheel, we are going to follow best practices that have been successful in other countries. We mean business. We will deliver. This is the right time to come and invest in Greece.