SPONSORED CONTENT
Ster Group: A spotlight on the leading Kurdish company and the entrepreneur who started it
As the founder and chairman of Ster Group — one of the largest conglomerates in the Kurdistan Regional Governorate (KRG) gets ready to retire this year, we take a look at the organization Sarwar Pedawi has created
A small startup about 20 years ago, Ster Group is now active in diverse sectors and has many international partners. It was established by respected entrepreneur Sarwar Pedawi. Dedicated to building KRG's economy, Pedawi started the enterprise as Ster Company, an importer. Its service quality attracted international partners and the business grew and diversified until Ster Group was formed in 2004. It has been responsible for advancing KRG in many ways, not least through its subsidiary Ster Construction, which is responsible for many of KRG's most prestigious developments. Its landmark, Erbil's Ster Tower, is managed by another subsidiary, Ster Tower Management. It offers a secure environment, state-of-the-art equipment, and is home to international businesses and consulates. Through Ster Petroleum, the group is also a leader in oil and gas. Its interests range from gas stations to refining, storage, trading and other oil-related services. For example, Ster Security Company provides most watchdogs in KRG, thousands of trained security personnel and armored vehicles. Damosc, on the other hand, supplies engineering, project management and equipment facilitating services. As with all Ster Group companies, it has a multilingual and highly experienced team. With a US partner, Pedawi established TaninNet to create a wireless telecommunications network, as KRG had no infrastructure. It has expanded into fiber optics, and numerous other information and communication technologies that are available in 175 towns and cities. The group also includes two mineral water companies, Avian Water and Kani Water, brands synonymous with bottled water in KRG with their own high-tech bottling plants. Due to their quality standards, Ster Group was trusted to act as Coca-Cola's official distributor in Iraq and to invest in the famous brand's factory there. The group's Ster-Kar Insurance, Iraq's largest private insurance company also has international partnerships. A recent venture is Ster Aviation, a high-quality, personalized travel agency. With an eye on tourism, it is partnering with Korek Teleferic on a cable car for Korek Mountain Resort & Spa. Although retiring, Pedawi leaves a group imbued with his spirit, which continues to look for new opportunities for itself and KRG.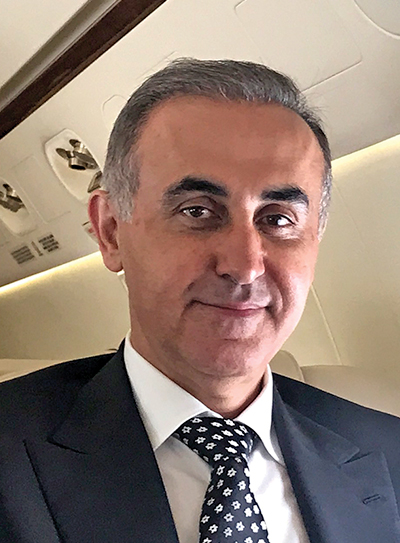 In his own words: Sarwar Pedawi
FP: Can you tell us about your background and that of Ster Group?
SP: In 1975 many Kurdish families became refugees including me. After five years living in Iran, I was one of the lucky ones as I was granted asylum in the Netherlands. I am very proud of being Kurdish but also very proud of being Dutch and give thanks to the Netherlands for my success. The Dutch opened the door for me and treated me like one of their own by giving me a citizenship and encouraging me to study. I have several higher degrees in telecommunication engineering, banking and finance. In 1991, during the First Gulf War, I came back to Iraq as a captain and engineer in the Dutch army. I then decided to leave the Netherlands and return to KRG permanently where, at that time, salaries were low and there was a lack of electricity and water. I worked for the Kurdistan Regional Government and after a while established my first business — Ster Company. We started importing small things from Turkey and our business kept getting bigger as we were successful in every venture we initiated.
FP: How did you turn it into such a diverse and successful organization?
SP: My goal was always to bring Western European standards and the best products to KRG and, in order to succeed, I had to be better than other people — a leader, rather than a follower. In 2003 Iraq was liberated from dictator Saddam Hussein, and after this the KRG started to exploit its own oil and gas. We entered that sector and also moved into the health sector where we became the exclusive partners of international pharmaceutical brands. When we started our telecommunications company TarinNet, as I was a telecommunications engineer, we built the first wireless internet provider and afterwards a tower with 500 lines connected to satellite. We continued with the expansion and implemented wireless internet in nearly every city and village in Kurdistan. This is how we became the market leaders. We also pioneered real estate projects here, for example, I built the first tower in Erbil — Ster Tower which hosted many Kurdistan's foreign consulates and became the city's landmark to the extent that people got married in front of it.
FP: How did you manage to partner with companies like Coca-Cola?
SP: It was not easy to meet the demands of Coca-Cola's regional agent, but after some time they agreed to work with us. Later, I sold my shares in Coca-Cola to Anadolu, but I still help and advise them a lot. We have a good relationship and I think it is very prestigious to be Coca-Cola's ex-partner.
FP: What does the future hold for you, Ster Group and KRG?
SP: My personal goals are to offer services for rebuilding the country while making a profit, as well as to continue giving economic advice to the government. For example, nobody has considered the effects on the environment that more than 40 oil companies and refineries have here. There is a need to come up with a solution that can, in the drilling process, separate dirty water from clean water. One of my plans is to enable KRG to prevent this kind of pollution by building facilities with a German-Romanian company. My second idea is to manufacture medicine and especially invest in agriculture, because we are rich in land and water resources. As for Ster Group, it is a solid business and has survived through the worst times. Ster Group employees and management are competent and results driven. I am sure they will always keep the company at the forefront of business here. If they ever need any advice I will always be there for them and I will always be proud of my company. I believe in my people and my country. I also give thanks to the wise leadership of our government, President Masoud Barzani and Prime Minister Nechirvan Barzani. They were responsible for establishing an investment board that, for the first time in Iraq and many other Middle Eastern countries, offered 100% business ownership, cost-free land and tax-free profits for ten years to foreign companies. These laws have attracted a lot of local and international companies — it was a smart decision and I thank them for it.