Antigua and Barbuda: The Right Kind of Long-Term Investment
---
Antigua and Barbuda: The Caribbean Multicultural Paradise Gets Back to What it Does Best
With some of the strictest health protocols and lowest infection rates on the planet, Antigua and Barbuda's 365 pristine beaches have never been more welcoming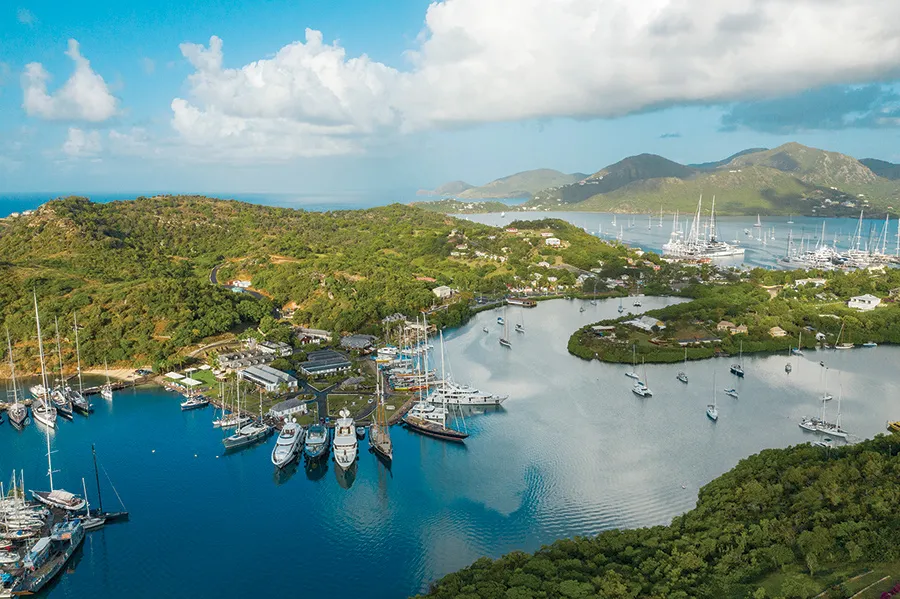 Now that a partial end is in sight to the woes of the past year, people are returning to what they know and love best: friends, family, and beautiful foreign climes. With record-low cases in 2020 and some of the most successful pandemic-response measures on the planet, the island paradise of Antigua and Barbuda is not only open for business; it's welcoming the kind of smart travelers and remote workers who know how to take advantage of a good thing when they see it, too. With many office places now a thing of the ancient past, all around the world a new breed of mobile employee is emerging: the kind who sees the forest for the trees. "Wherever you are," says Minister of Tourism and Investment Charles Fernandez, "you are just a few minutes from a beach. You could go for a swim on your break and return to work refreshed, having enjoyed some Vitamin D and sea and sand."The minister is not joking. Though its largest island, Antigua, is merely a dozen miles across, the island nation enjoys nearly 100 miles of some of the Caribbean's most pristine beaches. Not for nothing is it called the 'land of 365 beaches.'
Paradise regained
Dotted with natural harbors and lagoons, these are one of the reasons visitors began flocking back to Antigua and Barbuda toward the end of 2020; paradise lost no longer. With direct flights from New York, London, Charlotte, Atlanta, Miami, and Montreal, North Americans from across the eastern seaboard can reach Antigua and Barbuda within 3-4 hours. "We like to think we are very close to the United States," says Minister Fernandez, addressing remote workers in particular. "If you had to go back for any reason, it's a short flight."Throughout all of 2020, Antigua and Barbuda's population of 100,000 suffered from merely 159 confirmed cases of Covid-19 and five related deaths — less than practically anywhere on the planet. Only 1 out of every 629 Antiguans or Barbudans were infected last year, compared to nearly 1 in 5 Americans.
The right measures
For foreigners traveling here, the government's extensive health protocols have maintained an ideal balance between fun and safety. You can still go snorkeling with sting rays and explore offshore islands, but only through certified, Covid-compliant operators. Moreover, every hotel — even on the luxury private island of Jumby Bay — must abide by the strictest public health protocols. What's more, vaccinating the country's population of 100,000 should not be a terrible hurdle, either. It received 24,000 doses of AstraZeneca/Oxford in early April through COVAX and is expected to receive another 16,000 by the end of May. Though this is still shy of the mark for herd immunity, which is thought to be around 70% of the population, it is still a very good start.
"In terms of tourism," Minister Fernandez said, "we have been able to guarantee the safety of our visitors and frontline personnel interacting with them." In talks with major carriers in Europe and North America, Antigua and Barbuda has also been working around the clock to become a regional flight hub. Not only is it readier than ever to reopen; with the lowest crime rate in the region, a very good climate, and arguably the friendliest people, as the minister reminds us, the rest of the world is ready to get back there, too. "We could be entitled to brag a bit in terms of tourism," the minister says. "We have one of the most modern airports in the region." And size matters, in various ways. "We have managed to accomplish that thanks to the small size of our island. We are now putting the infrastructure in place to ensure that we have the most modern cruise port in the region," he told Prisma Reports. "We are just completing our cargo port, which will also be amongst the most modern in the region." The government's vision is for Antigua and Barbuda to become the beating heart and hub of the Caribbean. "All we need to do is put the ingredients in place," said Fernandez.
---
Minister of Tourism and Investment Discusses How to Stay One Step Ahead of the Pandemic
Charles Fernandez discusses the successful series of measures his country has taken to prevent infections and keep the doors open to intrepid sun-seekers from around the world.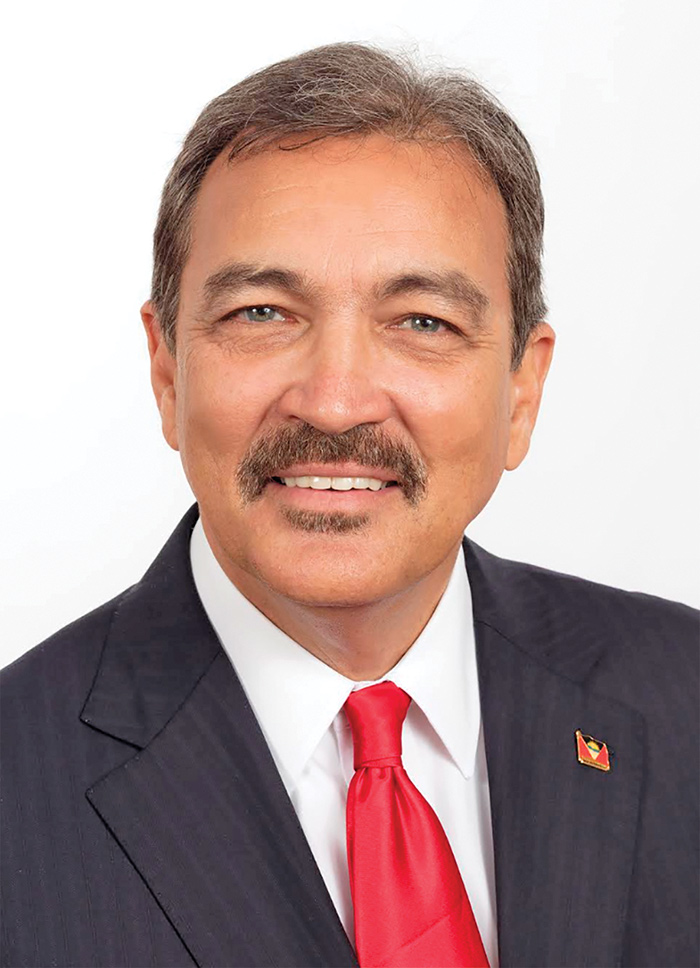 How would you summarize your role at handling the pandemic and the protocols put in place to resume tourism?
Our tourism is based on three pillars: air arrival, cruise arrivals, and yacht arrivals. The entire industry shut down around the third week of March 2020 — however, the yachts that were here stayed on. Whereas they would normally come around November and December and travel back to their place of origin in April or May, that didn't happen. At that point, the pandemic was raging in bigger countries and source markets; as a result, a lot of them opted to stay in place. A number of others that were in-between ports decided to come here, too: we moved very quickly in order to allow for those yachts to come in. Even though flights and cruises were shut down, a number of the yachts, especially the cruisers, were able to enter Antigua. One of the first things we did as a country in the tourism sector was work on bringing a level of medical technology into the Ministry of Tourism. While the Ministry of Health was focusing on COVID-prevention protocols, we were looking to put protocols in place for the resumption of cruises, flights, and yachts. We were able to put all these in place and hand them over to the Ministry of Health, which could either tweak or approve them. We also used some of our personnel to assist them.
We then set out with their blessing to train all our stakeholders and front-line people, not just in the medical profession but those working in immigration, customs, redcaps, taxi operators and dispatchers, hotel employees, tour operator employees, etc — we trained all of these people over a period of about three months. Every property — Airbnb's and hotels, bars, restaurants, and tour operators — had to be inspected and certified before they could open for business. For example, if you had a catamaran with 150 people on it, according to Ministry of Health protocols, and state that in order to be certified, you may only be allowed to carry 75, or 60, depending on the layout.We did a number of things to ensure that when we reopened, we would be ready for our visitors. The aim was not just to keep visitors safe but also to ensure that our people meeting and interacting with them would be, too. We made all of our hotels register their medical doctors with us; ensure there was always a nurse on duty; and always set aside one or two rooms for anyone who came in with flu-like symptoms, to test and/or isolate them.
We also ensured that all of the protocols were observed, i.e. washing stations; temperature checks for incoming guests; and special seals showing incoming guests that their rooms have been totally sanitized and cleaned in between guests. We worked with a number of these initiatives, and I can tell you, there is no evidence yet of any spread from a visitor to our community in Antigua and Barbuda. That is because we were so careful in terms of training our personnel who were on the frontline interacting with visitors. We have seen a number of spikes now, which we believe is due to a number of Antiguans and Barbudans coming home for the holidays over Christmas and New Year. They should have been staying in isolation for 14 days upon return, but a lot of them ignored that, took their masks off, and went around in the communities, which created something of a problem for us. Antigua was one of the first places in the Caribbean to mandate masks, even stipulating fines for those who fail to wear them. In terms of tourism, however, we were able to guarantee the safety of our visitors and frontline personnel interacting with them.
What are the protocols at the moment regarding PCR tests?
PCR testing was introduced a number of months ago mandating that visitors receive one within seven days of their arrival. Healthcare personnel first take their temperature at the airport; anyone with flu-like symptoms is taken aside and re-tested. They are then sent to their hotel room and must stay there until the results come back. The government has also worked with the Ministry of Health to open an Infectious Disease Centre, where we have everything that is approved by the Pan-American Health Organization (PAHO): ventilators, oxygenators, and various other medical equipment and medicine related to COVID relief. We have now got between 50 and 75 rooms specifically designed for that purpose. We have worked incredibly hard not only to prevent, but if necessary, also care for those suffering from COVID, be they locals or visitors.
As part of the island's commitment to safe travel and tourist experience, you have created a new app called 'Explore Antigua'. What is this?
That type of technology reduces the person-to-person contact, so you don't have to interact with anyone to find out just about any information. Previously, you might be out driving in the countryside and stop at the side of the road to ask someone from a village how to get to a particular place: technology is reducing that kind of interaction, which in turn reduces the possibility of infection.
What are your plans to attract new airlines to the island?
Before the pandemic, we had discussions with a number of airlines like Frontier and were hoping they could start working with us in the fourth quarter of 2020. Obviously, that couldn't happen, but we haven't given up. We have had open discussions with other airlines such as Aer Lingus to see what we might do to attract them. The government also invested in restarting the regional airline LIAT, which is very important for connectivity. We want Antigua to be an airline hub for the Caribbean and for the big airlines to be able to land here, drop off people, and pick up passengers for other small islands. LIAT would act as a feeder airline for Antigua, which has one of the most modern airports in the region. We are also one of very few airports that offers jet bridges. LIAT is a very important component of us retaining bragging rights as an important hub for the region.
You are interested in bringing more digital nomads into your country — what are Antigua and Barbuda's competitive advantages?
I would say that the Caribbean as a whole is very similar. But Antigua and Barbuda's biggest advantages include having the lowest crime rate in the region, a very good climate, and arguably the friendliest people. In addition, the government is now ramping up our technology and internet connectivity with heavy investments, which is an important component of working virtually from Antigua and Barbuda. Wherever you are, you are just a few minutes from a beach — so you could go for a swim during a break and return to work, refreshed, having enjoyed some Vitamin D and sea and sand. We are three hours from Miami and four from New York by air. We like to think we are very close to the United States — if you had to go back for any reason, it's a short flight. The government has invested a lot of money in technology related to COVID care at the Infectious Disease Centre, so if you came here and had some illness, especially COVID, you can be assured that we also offer first-rate healthcare. This is what makes us a desirable destination for those who want to come and work remotely.
Infrastructure and construction is another important engine. Is there room for investment from the U.S.? How would you advise investors?
We have had a number of interested parties from the U.S. — at least two hotels were supposed to be built this year, though they were unfortunately postponed due to the pandemic. One hotel investor had his plans approved and was ready to go; he was all set to have his top architect and engineer fly in every two weeks to supervise proceedings. The pandemic has made this very challenging, and those plans had to be put on hold. We are still continuing with negotiations. Just a week ago, the Prime Minister and myself held a meeting with another major hotelier about bringing in another major brand to Antigua. There is still a fair amount of interest in construction. For example, we just completed our fifth berth a few months ago after signing an agreement with Global Ports Holding for the cruise port. There was about $30 million invested in that, which also means we are now in a position to handle larger ships such as those in the Oasis-class. We are now in the process of working on the channel and turning basin, since apart from being able to hold ships, you also need the depth for them to be able to come through. We are confident that this will be completed within the next couple of months.
Lonely Planet's "First In Travel" Awards named Antigua and Barbuda 2021's Emerging Sustainable Destination of the Year. What can you tell us about the Green Corridor programme?
The "Green Corridor" is a route on the South Western side of the island – that part of the island tends to get a lot more rain than other parts of the island, so if you drive there, you feel almost as if you're in a different country. It is very green and tropical; there are lots of mango trees and a lot of different types of fruit available. We have made a huge commitment to ensuring that we protect that area as a green zone.
You previously served as Minister of Foreign Affairs and Immigration. Have your priorities evolved since then?
Both roles are different but important. The main difference, I find, is that in the Ministry of Foreign Affairs, it is very difficult to measure your success. In the Ministry of Tourism, on the other hand, it is very easy to measure your success or lack thereof. For example, in 2019, the number of visitors to Antigua and Barbuda passed the 'one million mark,' a new record for us and something we were very proud of. What's more, in both January and February of 2020, we saw double digit increases over 2019, which had also been a record year. We were also looking for 2020 to break records until the pandemic hit. In terms of foreign affairs, most of it deals with external matters, involving lots of interaction with foreign governments and treaties, etc., whereas in tourism you not only have to deal with stakeholders, airlines, and cruise lines, but with tour operators, the general public, and wider perceptions of the island. In foreign affairs, our motto was 'enemies of none, friends of all'. In tourism, things are a lot more difficult: you have to get the whole population to understand that, for example, service is not servitude. At the same time, you have to do a lot more in terms of training and making sure everyone gets involved.
What lessons has your government learned in the last year?
First, that people with underlying issues such as obesity and non-communicable diseases suffered more readily, which means the most important thing for us is to prioritize healthy lifestyles. This will translate to more productivity and fewer sick days; the economy and country in general will benefit.
What is your final message to readers?
Considering that we are a small developing island state, the most important thing right now is getting vaccines, an issue that most developing countries have also seen. People need to understand that unless everybody benefits from the vaccine, COVID-19 will not go away. In the meantime, we also run the risk of creating and spreading different variants. So my last words are an appeal to developed countries. They must understand that they are not in this alone — they cannot resolve this by only vaccinating their own people. 
---