Bahrain: The Innovation-Driven Financial Hub
---
Bahrain: The Innovation-Driven Financial Hub
A pioneer in financial services for over 100 years, Bahrain is home to the most established and dynamic financial center in the Gulf Cooperation Council (GCC) region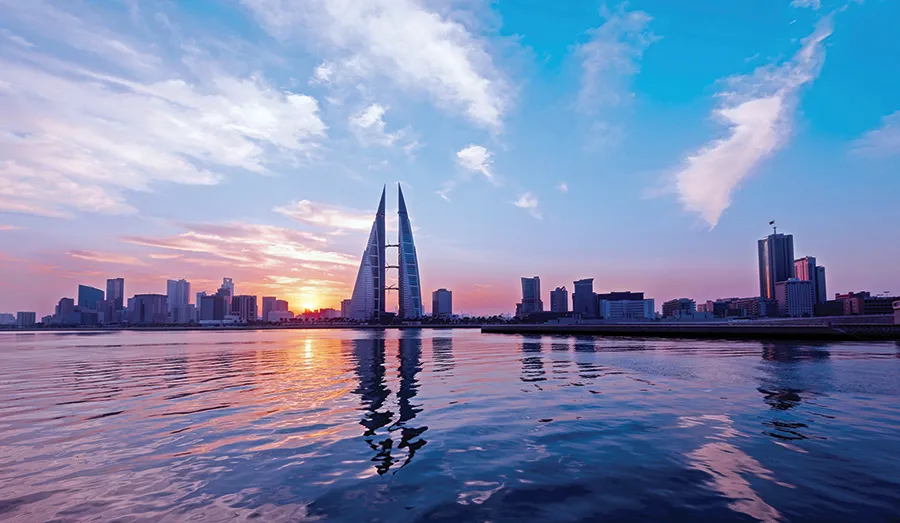 The financial services sector is Bahrain's second-biggest industry after oil and gas, with the 376 financial institutions operating in the country contributing 17.3% of its gross domestic product in 2020, up from 16.1% in 2019. At the sector's heart is a wide range of local, regional and global banks, which together managed total assets of $207.4 billion in 2020.
According to Adnan Ahmed Yousif, chairman of the Bahrain Association of Banks, the country stands out as a financial center due to the diversity of these banking operators. "It's a complex and very mature market. For example, it's the only financial center within the Arab countries that has such a variety of Islamic banking products." He also highlights the world-class standards the sector adheres to. "Our central bank is classified as one of the best in the Arab world, our legislative and supervisory frameworks are very good, as is the quality of our banking staff."
Other advantages for a financial center include the stability and openness of Bahrain's economic and business policies, a strategic location in the Middle East and North Africa (MENA), and the resilience of a banking system that has retained high levels of liquidity and capital adequacy throughout the COVID-19 crisis.
"Technology and digitalization are going to transform the world. We're looking forward to embracing this and making the business experience of our clients even better."
— Khaled Kawan
,
Group CEO, Bank ABC
A further, compelling advantage is that Bahrain is at the forefront of financial innovation, says Jamal Al Kishi, CEO and deputy group CEO of Gulf International Bank (GIB) BSC, the pan-GCC universal bank regulated in Bahrain that provides diverse financial products, services and bespoke solutions to its global clients. "The regulatory framework is perhaps one of the most supportive in the region for innovators and entrepreneurs. For instance, we're past the stage of talking about open banking in Bahrain: it's being commercialized as we speak."
GIB is illustrative of how leading banks with bases in Bahrain are evolving and embracing technologies. As well as shifting its business model to encompass more asset and wealth management, corporate finance, investment banking and high-end transaction banking, it has invested heavily in meem, the world's first fully digital Shariah-compliant retail bank, and other digital banking solutions.
These have won GIB international awards, such as Global Finance magazine naming it the Middle East's Outstanding Financial Innovator in 2021. "We are making sure we are at the very vanguard of what's happening in technology. I'm hoping that these rewards are only an initial indication of what's to come in terms of our desire to continue to innovate," Al Kishi explains.
Another preeminent institution that is driving the industry forward is the Arab Banking Corporation (Bank ABC) BSC, an international bank headquartered in Bahrain with a network that spreads over five continents. "We have sharpened our business model, reconsidered our geographies and invested in our products and technology to better serve clients and be the bank naturally geared to capture the business flow across a widespread region," reveals Khaled Kawan, Bank ABC's group CEO.
The bank has prioritized digitalization in its core wholesale banking business, payments and consumer banking. One of its most acclaimed innovations has been the establishment of ila Bank, Bahrain's first fully mobile-only bank, Kawan says. "It launched just before the pandemic, which accelerated the digital agenda. As a result, the key performance indicators we set ila Bank for 2026 were achieved by mid-2021."
Bank ABC is now looking to expand ila Bank's technology into other MENA territories such as Egypt, where it recently acquired BLOM Bank Egypt in order to reinforce its retail presence in the region. "Technology and digitalization are going to transform the world. We're looking forward to embracing this and making the business experience of our clients even better," Kawan asserts.
The regional nexus for fintech
Bahrain's focus on innovation extends throughout its financial ecosystem, which includes many local and international entrepreneurs. MENA's first and largest fintech hub is located there, for example, while by September 2021, 12 companies had graduated from the central bank's fintech sandbox.
Another important initiative for fintech, as well as other technology and smart-city startups, is the $100-million government-led Al Waha Fund of Funds that is boosting the region's venture capital capability. The investment manager of that fund is the state-owned Bahrain Development Bank (BDB), which is mandated to encourage and develop Bahrain's small- and medium-sized enterprises (SMEs) and entrepreneurs in all economic sectors.
Through a variety of effective financial services that are tailored to their needs, BDB is the country's premier bank for SME and incubator services.
In order to continue to sustainably meet the requirements of Bahrain's SMEs and entrepreneurs, BDB is well on its way to becoming one of the most digitalized banks in the region: it is in the process of migrating its core banking system to a state-of-the-art cloud-based environment and will soon launch tijara, an innovative end-to-end digital banking platform for
its customers.
The entire sector is committed to maintaining the country's position as a leading financial center, the Bahrain Association of Banks chairman says. "Banking is the engine of economic development. We have to push forward to grow the economy, the industry, the services and the business models."
---