Global Business Schools for the Future
---
Education Uses New Digital Tech to Bridge Gaps
Business schools are embracing virtual and communication technologies to explore beyond what was thought possible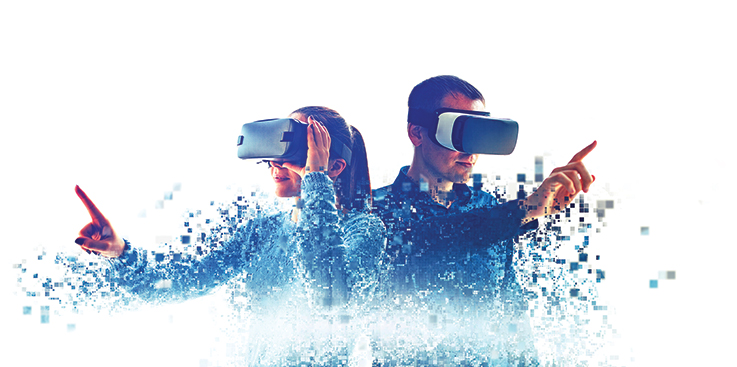 Digital technologies are visibly transforming the world around us; everything from life sciences to buying a pair of shoes now has a growing digital facet. The tech revolution has also increased the reach of education, with some schools taking advantage of a virtual world without borders to promote leadership and development in previously untappable areas.
Different schools have taken different approaches in embracing digitalization and online education. "We need to intentionally use technology to enhance interaction, not take away from it," insists Lily Kong, president of Singapore Management University. The institution recently opened a center for artificial intelligence and data governance.
"We need to intentionally use technology to enhance interaction, not take away from it."
— Lily Kong
,
President, Singapore Management University
The Asian Institute of Management (AIM) has taken a leadership role in digital transformation by creating a global academic leadership program in cooperation with the Philippines' Commission on Higher Education. The initiative looks to help local universities embrace smart and digital solutions in education. The program has been well received. "We are now getting requests from private and local universities for similar services," says Jikyeong Kang, dean and president of AIM.
Other schools have taken a global approach. International Management Institute in Ukraine has used new online technologies to enter Tajikistan and create a business education system. "In Tajikistan, we represent the modern Europe," says Iryna Tykhomyrova, president of the school.
Digital platforms for global dissemination are also being harnessed. The John Molson School of Business recently partnered with Ivy Publishing to showcase their studies through the publishers' or Harvard's website. The Canadian school was ready for the jump to online education far before the pandemic.
Top leaders in business education have stayed ahead of the wave and not only transformed but thrived. With more innovation on the horizon, schools with the most impact will be those attuned to the technologies of tomorrow.
---
Barcelona school seeks education through progress
UPF Barcelona School of Management puts social values at the centre of business education
UPF Barcelona School of Management (UPF-BSM) brings a serious tone to Europe's favorite vacation spot. The beach-contoured city hosts a plethora of logistics and tech firms, making it an ideal location for a forward-run business education institution.
Barcelona has grown to become a European startup hub over the last decade, from virtually none to having more than 1,300 startups in mobile and software technologies and life sciences. In 2020, the city ranked among the top five startup hubs in Europe. The city has transformed its El Poblenou district from an industrial wasteland to a vibrant startup melting pot that offers students a chance to engage directly with growing industry.
"What makes us different and a leader in Spain and Latin America is that we are the management school of a top public university."
— José M. Martínez-Sierra
,
Director General, UPF Barcelona School of Management
UPF-BSM is part of Barcelona's Pompeu Fabra University, which was rated the best university in Spain by Times Higher Education World University Rankings in 2021. The business arm of the university was founded in 1993 and has since jumped to the top of international charts in terms of its educational offerings.
"What makes us different and a leader both in Spain and Latin America is that we are the management school of a top public university," says José M. Martínez-Sierra, director general of UPF-BSM. The institution is undergoing what Martínez-Sierra describes as transversal digitization; it is digitizing not only its classrooms, but the connections between students, faculty and its more than 30,000 alumni.
The business institution's digital development started early, with full online programs beginning in 2002. The director general described the school's movement from physical to virtual classes during the COVID-19 pandemic as seamless, unlike at Harvard University where he previously worked that closed its doors.
UPF-BSM prides itself in choosing working partners with companies that have sustainable visions that look to impact society. For example, the school recently signed an agreement with Triodos Bank, a leading company in sustainable finance, for the creation of an international research center for ethical banking.
In conjunction with the deal, the school is preparing to spear-head a slew of private public partnerships to bolster its curricula and knowledge transfer.
UPF-BSM's ultimate goal is to lead the charge in preparing the leaders of tomorrow to work with industry and ultimately affect legislation and society. The school connects students to Barcelona's thriving industries and beyond.
---
Global Business Schools for the Future Report Contents: