Outstanding Universities of the World
---
Helping Foreign Firms to Navigate Regional Hurdles on the Path to Success
SMU's strategic focus on Asia's economic, political and social issues benefits from real industry experience and the valuable knowledge of leading professors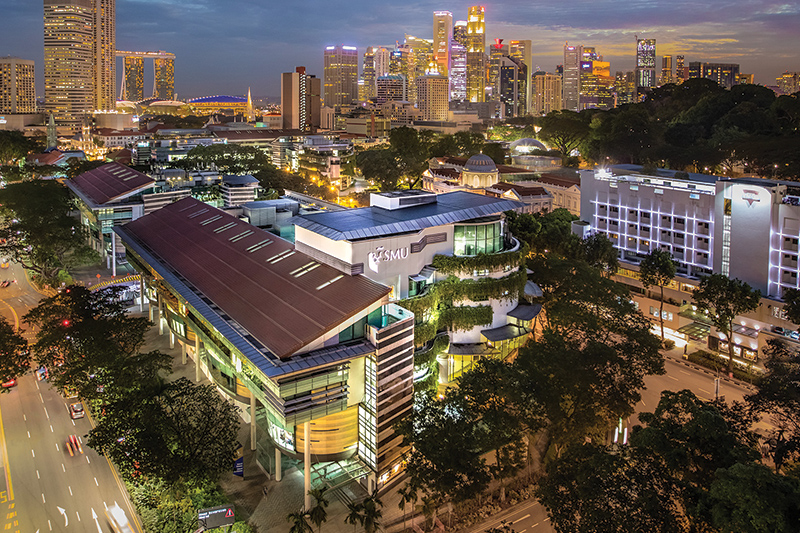 SMU is not just a strong magnet for the region's brightest students, but also for many of the world's best professors, who combine a passion for education with skillsets and vital industry experience and knowledge.
One such example is SMU Associate Professor of Strategic Management (Practice) Gordon Perchthold, a former Global Partner with Deloitte Consulting.
He recently published a book called "Build and Manage Multinationals for Sustained Growth Across Asia," which features a curated collection of insights taken from decades of industry experience and academic research.
The book guides readers in accumulating valuable knowledge by the spoonful, thereby building relevant expertise, avoiding pitfalls and accelerating results.
Perchthold's book highlights how global companies are hoping to leverage on fast-moving developments in the region.
"Visualize what 3.2 billion middle-class consumers will do for the economies in Asia and what revenue opportunities this represents for multinationals."
— Gordon Perchthold
,
Associate Professor Strategic Management (Practice), SMU
"Visualize what 3.2 billion middle-class consumers will do for the economies in Asia and what revenue opportunities this represents for multinationals," he comments.
Perchthold's book shines a spotlight on many of the tangible and intangible challenges faced by multinational companies seeking to take advantage of Asia's plentiful human and natural resources and associated spending power.
According to him, some of the barriers that need to be broken down are: cultural diversity, cognitive biases, analysis paralysis and internationalization risks.
"Asia can be challenging for businesses from different areas looking to expand their operations," Perchthold says. "Understanding how dynamics vary among these nations will help better navigate this richly diverse terrain."
On the topic of international business risks, these are often perceived to be "insurmountable barriers to venturing abroad," he notes. "This is perhaps due to the generalization of risks relating to a fear of an unknown culture and market, and being an outsider in a foreign economy," he continues.
Cognitive challenges crucial
Turning to the issue of cognitive bias, Perchthold states that the complexity of the human brain means there are over 180 cognitive biases that can influence decision making when confronted with something new.
He notes that self-serving bias is "one of the more common cognitive biases that can lead to irrational decision making. This mindset leads us to attribute successes exclusively to ourselves while blaming failures on factors outside of our control. While it might be especially difficult to avoid biases when engaging with or managing and selling in different countries, it is important to be aware of such tendencies and avoid them whenever possible.
"Furthermore, differences in cognitive orientations between the East and Anglo-Saxon cultures can also lead to miscommunication and other hurdles when expanding into Asian markets. But while such differences may arise in greater conflicts, they also lead to a broader diversity of solutions and opinions."
On the subject of analysis paralysis, Perchthold's book highlights that, when faced with a deluge of research intelligence during an assessment of a new market's viability, firms may spend a considerable amount of unnecessary effort on areas that do not contribute greatly to decision making.
"It helps to develop a shortlist for detailed assessment, create an issue tree — a diagram to break down a problem into smaller ones — and develop a Topology of Distance Framework," he says.
In the form of a mental map, this framework was designed by Perchthold for business leaders to compare differences in a consistent manner.
"Case studies of foreign peers in the host country can then be created to assess strategies that worked or failed; as well as roleplay reactions from local and foreign competitors when one's firm enters the market. With these tools, firms can avoid analysis paralysis and focus on key areas that will yield clear benefits to business development efforts," he explains.
"Internationalizing a business is not without its challenges. For business leaders considering this path, be mindful of cognitive biases that may affect the decision-making process in an international team, and avoid analysis paralysis when it comes to assessing the viability of a new market.
"In addition, rather than put off overseas business development based on generalized risks, it is more constructive to develop a game plan to mitigate uncertainties and engage meaningfully with local talent to help navigate cultural differences during such a journey."
---