Ireland: Growth in the Face of Adversity
---
Financial Industry Seeks EU Foothold
Cecilia Ronan, CEO, Citibank Europe, talks about Ireland's current attractiveness as a place for multinationals to do business and its strong relations with the U.S.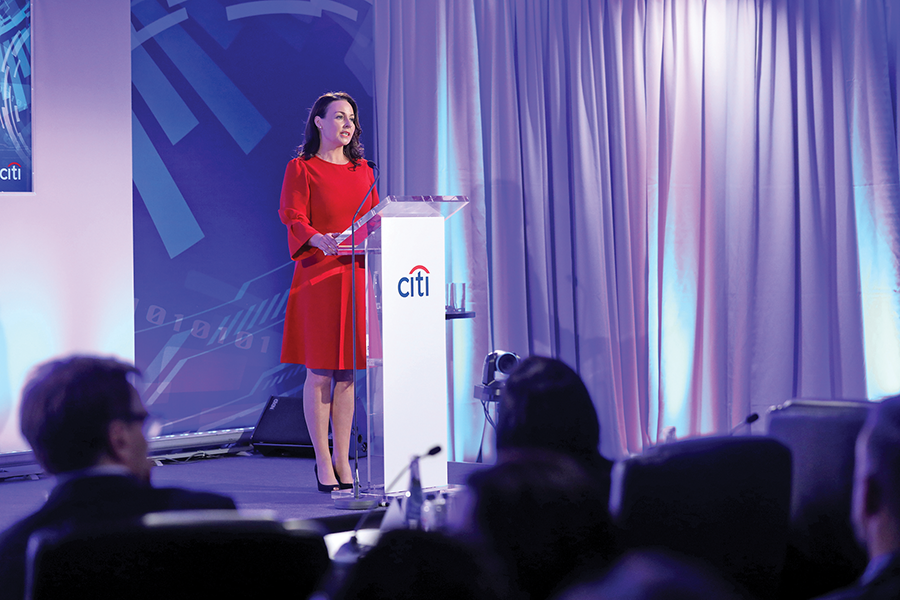 Why is Ireland an attractive place to set up operations?
Ireland has a probusiness environment; the ease of doing business is high. We have a highly diverse business ecosystem, with a wide range of tech, pharmaceutical and financial services companies as well as start-ups. This enables collaboration and breeds innovation. Even within the financial services sector, there is a broad spectrum of companies including aircraft leasing, funds business, insurance, banking and international financial services. The strong talent pool, access to the EU and being the only English-speaking country in the EU is a real advantage for Ireland. This is in addition to an attractive corporate tax rate.
Having all this on offer here has given us the ability to expand our business and move up the type of roles we have here up the value-chain. At Citibank Europe we have moved approximately 800 lower-value roles to locations out of Ireland and moved approximately 1,000 higher-value roles into Ireland in the past years. We have over 500 highly qualified people working in technology roles — from software engineers to data scientists. This is major evolution from the customer service roles we started off with. We have been able to reskill people and we have many of our global leaders here. Our people can have a global career while based in Dublin. There is a culture of adaptability, flexibility and productivity. The idea of client experience is natural to us.
What relationship does Citi have with the rising number of fintech companies?
Technology is having a transformative effect on banking — enabling faster, easier, and smoother access to financial services. It is also driving financial services to become more embedded in our clients' business models. In Citi, we think of fintech in three categories: partners, clients and competitors. We mostly deal with fintechs as partners but don't rule them out as competitors. We partner with fintech companies because we see how we can use the emerging technology they are developing and they can use our unparalleled global network. Citi has a venture arm in California, Citi Ventures, that invests in some great fintech companies.
"The future will be focused on what the culture of work looks like and how we ensure innovation and collaboration."
— Cecilia Ronan
,
Managing Director, Citibank Europe
Startups launch locally but generally want to go global as soon as possible. They typically use our network to take them across markets rather than building it themselves. For example, we have partnered with Stripe and Uber is one of our large clients. As competitors, fintechs are often more agile than us. Therefore, it is key we invest in our own digital capabilities. Business and supply chain models of our clients are changing quite significantly, and we need to continue to support them. We used to be pushing digital, real-time capability and instant payments to clients, but now they are demanding it.
Payments is one of the biggest areas for fintechs in Ireland, but there is also growth in digital currencies and regulatory technology, amongst others. We need to be really focused on the future and how we can ensure innovation and collaboration, and that new ideas must continue to be generated. Rapid advancement of our digital capabilities is essential to our clients. In the last few years there has been a convergence of consumer and corporate expectations, where corporates want to have the same seamless digital experience they get at a consumer level.
What impact does the U.S. multinational presence have on Ireland?
There are 800 U.S. firms based out of Ireland with a diversity of business and skills across the multinational sector. For many years, if people wanted significant career growth, they would have had to emigrate. Now, they can have those types of roles right here in Ireland. We positively welcome the return of what we see as multilateralism under the Biden administration, which will indeed support opportunities for growth even more.
Our clients here are international, and also Irish companies that want to go global and global clients that want to expand their network. In that sense, Citi is an ideal partner because of the scope and scale of our network across the world.
---
Ireland: Growth in the Face of Adversity Report Contents: