Bahamas: Celebrating 50 Years of Success and Independence
---
Showcasing the very best of the Caribbean
The Bahamas blends crystal clear waters with stunning beaches, attractive climate with incredible hospitality, and an amazing range of activities and adventures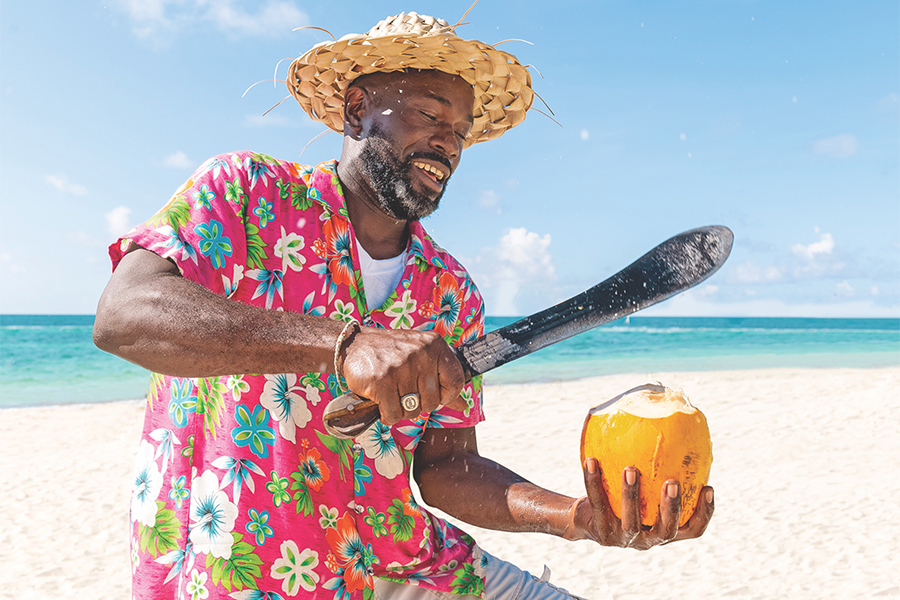 Given its enviable reputation as an unmatched collection of welcoming paradise islands under a golden sun, the Bahamas' tourism offering needs no introduction, with its popularity reflected in the rapid rebound in visitor numbers post-pandemic. Along with the wave of traditional vacationers seeking sun, surf and sand, the nation is enjoying an uptick in tourists wishing to experience watersports, romantic breaks or to get married. As a "Big Day Destination" obtaining your marriage licence is easy and as experienced wedding specialists are on hand to assist couples every step of the way to the alter — whether on a secluded sandbar or under an arbor in the middle of the ocean.
The Bahamas' natural beauty is also evident throughout its sparkling warm waters, making it a leading diving destination. The world's third largest barrier reef, countless blue holes, thriving coral reefs, and near-forgotten shipwrecks offer thrills galore for experienced and novice divers. Such natural resources make it a popular choice for fishing expeditions, particularly deep sea ones. Some of the largest predators in the Caribbean reside in its waters, from marlin and wahoo to mahi-mahi and sailfish.
The country also hosts some of the world's best athletes each year. Elite players have access to world-class sporting facilities and an excellent climate for year-round training and competition.
For travelers who wish to return to nature, there are plenty of eco-tourism tours and adventures on land and sea. Visitors can explore 32 national parks, meet dozens of expert guides, and choose from countless unique tours through wetlands and wildlife preserves, coral reefs and tidal creeks, pine forests and pristine coastlines. An authentic side of the Bahamas awaits on an eco-adventure, whether in an ancient cave network or a sprawling marine reserve. Wetlands and coppice forests allow rare animals, wild birds and exotic orchids thrive. "It's important for us to make sure that the visitor experience is second to none," explains the BMOTIA's Duncombe. "We want visitors to come and return. For us, it's promoting the two and three center vacations. You can come to Nassau, then hop over to Exuma, Long Island, Cat Island or Inagua. "We are a 16-island destination — 16 unique experiences in one country – so there is a reason to return over and over again; no two islands or island experiences are the same. The cultural flair and flavor of them are different. "We're focused on eco-tourism, sustainable tourism, we're going to give visitors desirable nightlife and adventures, but we want them to know that not only are we open for business, there are 16 destinations and this is a reason to come to the Bahamas again and again and again."
---
Tourism leaders target travelers from new regions
Well-established air links and cruise trips from Europe and the Americas are strong foundations on which to open new chapters such as visitors from the Middle East
The Bahamas is celebrating its golden anniversary of independence in style with tourism chiefs confident of a boom in international travelers visiting the 16 main islands to join in a series of colorful events that will recognise the history, heritage and culture of a special destination. Indeed, 2023 promises to be a time of great development in the Bahamas with investment across the islands, supporting the increased airlift with new hotels and developments including Nassau's new cruise terminal, the completion of the Hurricane Hole Superyacht Marina on Paradise Island and the opening of a new cruise port in Grand Bahama in partnership with Carnival Cruises in 2024.
At the late 2022 World Travel and Tourism (WTTC) Global Summit in Riyadh, Saudi Arabia, Deputy Prime Minister, Chester Cooper attended a series of panels and discussions with industry leaders from around the world. He also shared ambitious plans to grow the Middle East market and articulated his vision for Nassau to become an aviation hub for the Middle East into the Caribbean. With an increase in airlift from London and a weekly schedule of almost a dozen flights, the senior official sees huge potential for the Bahamas to immediately begin the process of becoming a regional aviation hub for the Middle East, connecting from the British capital. "Airlift is the oxygen for tourism and we are delighted to now have that increased flight uplift from London to our hub Nassau, enabling us to welcome more visitors," he said post-WTTC.
"We have much experience in this sector with Bahamasair already servicing our major island destinations, we are discussing using our insight to make the Bahamas the hub of multi-destination travel across the Caribbean making it even easier for the world to experience our many beautiful islands. "Bahamasair will be a key asset in this initiative. With our proximity to the U.S. as the most northerly Caribbean country, with U.S. pre-clearance and TSA (Transportation Security Administration) pre-check, we are ideally positioned." The BMOTIA team also held a number of successful meetings at WTTC focusing on investments and sustainability being at the forefront of the future of tourism for the Bahamas with its' marine territory of 100,000 square miles, 700 islands and 2,400 cays. The islands have set a target of 30% renewable energy by 2030 alongside other initiatives to support The Bahamas sustainability plans.
---