Bahamas: Celebrating 50 Years of Success and Independence
---
Sustainable tourism initiatives are the absolute priority
Like other island nations, the Bahamas is conscious of the risks to its future from climate change, particularly rising sea levels, meaning sustainability is crucial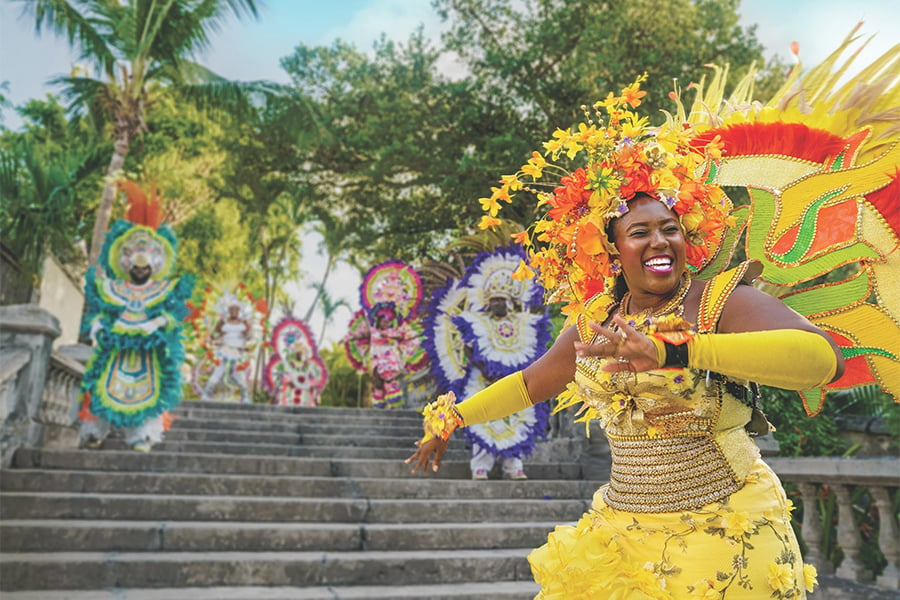 The Bahamas' precious natural resources and diverse ecosystems make it an ideal vacation destination for visitors who enjoy and embrace sustainable tourism activities on land and water. With climate change a threat to natural wealth, it is now more important than ever before to preserve and protect the archipelago and to introduce initiatives that steer it towards a more sustainable future.
"Tourism is the heartbeat of our economy, but our beautiful islands and cays need us to protect them. As we rebuild Abaco, Grand Bahama Island and Ragged Island [after hurricanes], we are faced with a constant reminder of the importance of this work," says the BMOTIA's Duncombe. "Our commitment to combat climate change will greatly benefit citizens and visitors for generations to come." New initiatives under the administration's "Blueprint for Change" are aimed at preserving the country's natural beauty and contributing more to global sustainability practices.
International coordination key
The Bahamas is a proud member of various U.N. climate change committees and just two years ago, the country joined the Global Sustainable Tourism Council. The non-profit organization is responsible for establishing global standards in destination management and promoting sustainable tourism worldwide, with the aim of educating local communities on global best practices in sustainable community-based tourism development. In early 2022, the Bahamas Destination Stewardship Council Initiative was launched to promote sustainable lifestyles, environmental protections and stewardship, along with a healthier lifestyle for communities. The GSTC-led initiative serves to educate and unite the communities through a collaborative effort of the key stakeholders of the tourism industry — members of the local communities, government agencies and business operators — to holistically maintain the integral aspects of the destination, be it aesthetic, economic, environmental or cultural.
One such example saw four islands — Eleuthera, Harbour Island, Andros and Exuma — organize councils comprising omembers of the public and private sectors to discuss and design eco-friendly and culturally enriching new infrastructure. Bekera Taylor, Chairperson of Eleuthera Sustainability Council Cooperative Society, said of the initiative: "It's about our heritage, our environment and people connecting to make a difference within their island, collaborating to make it better and stronger. We're people connecting to try and enhance what we have already been blessed with." This view was echoed by Sandra Russell, Director of the Family Island Development Department, who remarked, "The formation of Sustainable Destination Stewardship Councils in our Family Islands is certainly a game changer for the islands.
"The work of these councils will propel our islands towards sustainability, ensuring our communities remain intact, community stakeholders are involved in the management of their destinations and businesses are viable, competitive and equipped to achieve long-term success. "We are extremely excited to be a part of this project with an end goal of being recognized as a sustainable destination, improving the visitor experience and addressing the needs of host communities. It's a win-win situation for us." In late 2022, BMOTIA in collaboration with the GSTC hosted the second phase of the Sustainable Tourism Training Programme (STTP) on several islands. STTP aims to empower local communities to maximize economic benefits and create leading roles in tourism planning and management through sustainable tourism. The ground-breaking and well-received initiative taught local members to protect environmental assets, preserve cultural resources and incorporate elements of Bahamian heritage in the development and marketing of brands.
Myriad of eco-friendly activities
While the Bahamas has a plethora of sustainability efforts underway, there are many local spots that are already excelling when it comes to conservation and ecotourism initiatives.
Leading eco-friendly adventures can be found at Lucayan National Park, which features one of the world's longest charted underwater cave systems, preserved remains of the Lucayan Indians and natural environments like pine forests and mangrove creeks.
At Abaco National Park, the Bahama Parrot and its breeding grounds are the focus of preservation efforts as every spring breeding season, thousands of the birds take refuge in the park.On Long Island, officials and locals are working to protect the world's second-deepest blue hole — Dean's Blue Hole — with similar efforts taking place at the magnificent Andros Barrier Reef.
---